Asthma in children can be associated with allergies, but as Dr. Aaron K. Kobernick reported recently, other health conditions can also contribute to childhood asthma. He found that approximately two thirds of children with persistent asthma who had no allergic symptoms had another health condition, namely gastroesophageal reflux disease. The condition of acid reflux aggravates asthma. A prospective study examined children with moderate persistent asthma over a 2 year period. Initially the children underwent spirometry testing to assess their lung function. Another test involved monitoring of the acidity (ph values) in the esophagus of those children. The latter test demonstrated that the majority of the asthmatic kids also had GERD (gastroesophageal reflux disease).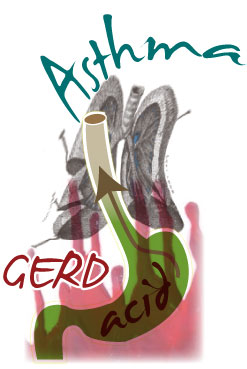 Acid reflux aggravates asthma
Those children who were free of acid reflux received asthma medication only, but the patients with acid reflux and asthma received medication to treat the reflux.
In some cases surgical intervention was necessary. It became apparent that the children whose reflux was treated either surgically or with medication had an improvement of asthma symptoms of 22 to 25 %, whereas asthma medication alone contributed only to an improvement of 11%. Dr. Kobernick concluded that the large airways can react to the exposure of stomach acid, which results in an aggravation of asthma symptoms. Treating the acid reflux condition will result in less asthma in young patients with GERD.
More information on:
1. Asthma: http://nethealthbook.com/lung-disease/asthma-introduction/
2. GERD: http://nethealthbook.com/digestive-system-and-gastrointestinal-disorders/acid-reflux-gerd-esophagitis-barretts-esophagus/
Annual Meeting of the American College of Allergy, Asthma, and Immunology, November 6 – 11, 2008, Seattle, Washington
Last updated Nov. 6, 2014