Even though supermarket shelves are stocked to the hilt with a wide assortment of groceries, not all is well in the USA. At the annual meeting of the American College of Nutrition Theresa A. Nicklas, D.P.H. summed up the current situation in the following statement: "The American population is overweight but undernourished." Results from a study of more than 25,000 people showed, that half the population does not get enough calcium, magnesium and potassium.
Many people consume more calories than they need, but nutrients like the ones mentioned before and which are essential for functions such as immunity, bone health and blood pressure are falling short of the recommended amounts. The only age group in which the recommendations for calcium intake were met was the age group up to 8 years. In adults the needs were not met, and more females than males were deficient in all of the three nutrients.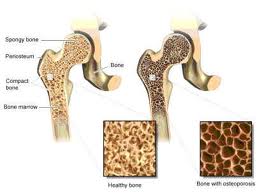 Calcium intake prevents osteoporosis
The situation could be corrected by consuming 3 to 4 equivalents in the dairy group. It should be added that not only dairy foods are rich in calcium. For individuals who do not consume dairy foods, soy products are rich in calcium, as are almonds, almond butter and nuts. Legumes (beans) as well as green vegetables (bok choi, collard greens, turnip greens) are calcium sources that should be incorporated in a nutrient rich diet.
More information about osteoporosis: http://nethealthbook.com/arthritis/osteoporosis/
Annual Meeting of the American College of Nutrition
Last updated Nov. 6, 2014