The fear that there could be a connection between the measles-mumps-rubella (MMR) vaccine and the development of autism (PDD or pervasive developmental disorder) has stopped many concerned parents to have their children vaccinated against these common childhood diseases.
Canadian research found out that a different picture emerged. Dr. Fombonne and his team from Montreal calculated that PDD prevalence increased by about 10 % every year. The MMR coverage decreased by about 4%. From these figures it is clear that the MMR-autism connection has been a myth. The consequences of the scare however, have been severe after the 1998 scare that came from an article in the Lancet. MMR vaccination has dropped from 95% to 85%, and the UK is currently experiencing its worst measles outbreak in 20 years. Measles is not a "harmless" disease that affects small kids. People have to remember that measles are a disease that kills, and not just in developing countries.
The next item was the hypothesis that mercury exposure from vaccines could pose a problem. Mercury exposure however has dropped to nil ever since a compound called thimerosal that was used as a preservative has been discontinued and eliminated from vaccines in 1996.
Autism (PDD) and its increase still keep researchers busy. The vaccination myth has been debunked as the culprit for autism.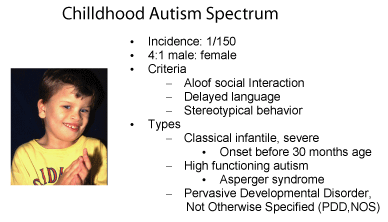 Dr. Fombonne explains that there is increasing evidence for genetic factors giving rise to the disorder, but there could be contributing environmental factors.
Reference: National Review Of Medicine, July 30, 2006, page 3
Link to chapter on autism in my Net Health Book with more info about autism: http://www.nethealthbook.com/articles/autism.php
Last edited December 6, 2012