The standard treatment for patients with risks for blood clots is a prescription for the medication called warfarin. Patients who suffered a stroke or who have atrial fibrillation will receive this drug, as do individuals who have a mechanical heart valve. Following pulmonary emboli blood thinners are also required for a period of time. Even though warfarin is a medication that has been in use for several decades, there are important guidelines. Warfarin is a blood thinner, and it is imperative that the blood values of the patients are closely monitored. Too much warfarin could lead to disastrous bleeding, whereas too little medication can lead to blood clots. Both conditions can be life threatening. As a result, patients who are taking warfarin have to present for blood tests on a weekly basis at a lab. Managing proper coagulation may become less cumbersome in future, as a trial that was run at 28 Veteran Affairs medical centers has shown. Tests enrolled 3,644 patients who required warfarin, and they received training in using a home monitor, which took about 30 minutes. They used the home monitoring device for 2 to 3 weeks, after which they returned to their local center for assessment, how successfully they had monitored their INR level.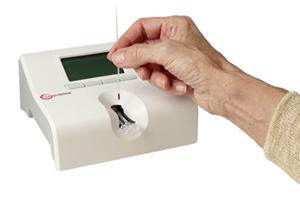 Monitoring INR at home
The results were encouraging: 2,922 patients-80% of the original group showed that they could successfully handle home monitoring, either by themselves or with the help of a caregiver. They would phone in their test results on a weekly basis and would receive instructions by phone for dosage adjustment. The advantage for the patient is the fact, that they become more involved and empowered in their own care and show more engagement towards their health.
More information on:
1. Atrial fibrillation: http://nethealthbook.com/cardiovascular-disease/heart-disease/irregular-heart-beats/atrial-fibrillation/
2. Pulmonary emboli: http://nethealthbook.com/lung-disease/pulmonary-emboli/
The Home INR Study (THINRS , Presented at the Annual American Heart Association Meeting, New Orleans, Nov. 8 to 12, 2008
Last updated Nov. 6, 2014