The American Medical Association (AMA) has just released a new policy recommendation and statement that LED streetlights can be harmful. After meticulous reviews of the research on the effect of white LED streetlights and their effect on health the AMA decided that it needed to publish its recommendations so that city fathers have some guidelines for illuminating their cities.
Cost and energy savings from white streetlights
Many cities in the US have already switched from the yellowish traditional streetlights to the high-intensity LED lighting. The cities did this unilaterally without consulting health professionals or the public. The cities wanted to save money by using white LED lights. But as we will discover below there are serious health consequences to this.
Historic lighting solutions
We did not always have streetlights. Physicists use Kelvin units (K) to measure the intensity of light. The term"color temperature" (CT) is in us to describe color composition. Before Benjamin Franklin and Thomas Edison invented electricity we burnt candles and wood at night. This produced a light of 1800 K, which was yellow and red with hardly any blue. Next came incandescent light bulbs. They have a color temperature of 2400 K, which contains less blue and more yellow and red. The new light source is the LED light, which contains a lot more blue color and appears to us as white light. The color temperature is around 4000 K to 5000 K.
LED streetlights can be harmful to your health
Who would have thought that switching streetlights could have anything to do with your health? The newest LED street lights are emitting large amounts of blue light. Our eyes perceive this as white light, but it also creates nighttime glare, much more so than conventional lighting. Eye discomfort from blue-rich LED lighting can interfere with visual acuity and cause road hazards. The blue-rich LED streetlights happen to operate at the wavelength that suppresses melatonin during the night. Researchers believe that the white LED lamps cause interference with the important circadian sleep rhythm. This effect is much stronger with the white LED lights in comparison to the conventional streetlights. The interference with the sleep rhythm means that there is less sleep time. The sleep subjects reported that their sleep quality was unsatisfactory. There is daytime sleepiness and impaired daytime functioning. White light LED lights can even cause obesity.
Effect of white LED light on animals
Animals can also react to white LED light. The bright outdoor LED lights disturb many species that need a dark environment. Poorly designed LED lighting disorients some birds. Researchers detected that insects, turtles and certain fish species also experience disturbance in their habitat by white LED lights. US national parks have adopted lighting designs that reduce the effects of light pollution on wildlife. So far nobody has shown any concern, what light pollution does to humans!
AMA guidelines to reduce impact of white LED lights
The AMA has come out with new guidelines to help reduce the impact of white LED light. Instead of high-intensity white streetlights the AMA recommends to communities to use the lowest emission of blue light possible to reduce glare. The AMA has recommended a color temperature of no more than 3000 K. This type of light has more of a mix of blue, green, yellow and red in it and very little white. In contrast the CT of bright LED streetlights have 4000 K to 5000 K. This contains a lot of blue light, which appears as white to the eye. Seattle and New York belong to the cities that recently had their streetlights retrofitted to the white LED streetlights.
American Medical Association (AMA) recommendation
According to the AMA guidelines these lights should now be refitted again. The AMA also recommends that the lights should be shielded to minimize glare and the detrimental effect on humans and the environment. There should also be a possibility of dimming the lights in off-peak periods.
Evidence from medical literature that LED streetlights can be harmful
Here I am reviewing what has been found in the medical literature about white LED lighting that is now preferably used in street lighting.
Cataracts caused by high color temperature
A Chinese lab tested epithelial cell lines derived from human lenses under a variety of light sources. The lab had previously established that oxidative stress on epithelial cells from human lenses was the most important factor for developing cataracts in humans. Human epithelial cells were cultured in the presence of different LED light frequencies. A high color temperature of 7378 K caused damage to the epithelium while controls of lower color temperatures of 2954 K and 5624 K LED lights did not. The authors concluded that white LED light with a high color temperature could cause significant photobiological damage to human lens epithelial cells. This in turn can cause cataracts and legal blindness.
Human retinal cell cultures damaged by white LED light
Another research group studied human epithelial pigment retinal cells in tissue culture. They exposed the tissue cultures to various light frequencies, namely white, blue, green or red LED light. Reactive oxygen and DNA damage were assessed. The white light showed the highest amount of damage to the human retinal cell in culture.
Intermittent exposure to white LED light in long-term care residents
In a trial on senior long-term care home residents researchers found that intermittent exposure to bright light (versus red light) showed positive cognitive effects on the seniors. It is not clear why with respect to cognitive function there is a positive finding using white LED lights, while the other tests mentioned above showed negative effects on the lens and the retina of the eyes.
Blue light filters for night shift workers
In another investigation blue light filters were employed in night shift workers and the investigators detected beneficial health effects. In animal experiments the same results were found.
Normally in shift workers cancer, heart disease, metabolic disturbances, depression, anxiety disorders and reproductive problems are found.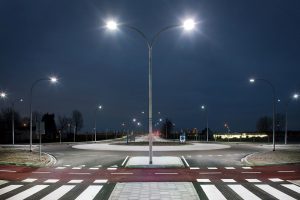 LED Streetlights Can Be Harmful
Conclusion
Despite the evidence in the medical literature showing that yellow lights are better than the newer white LED lights, cities have been converting the yellow streetlights to white LED streetlights. It makes economic sense, but harms people. The American Medical Association is attempting to convince authorities to use common sense. The AMA wrote guidelines and hopes that city fathers will reconsider their decisions. If you are concerned, voice your opinion by talking to your political representative.