If you want to lose weight, have you considered eating Mediterranean with healthy fat? A lot has changed in recent years regarding recommendations for healthy food intake. In the eighties and nineties there was a recommendation for a  low fat diet, which unfortunately was high in carbs and led to obesity. We learnt from this that carbohydrates break down in the gut into sugar. This converts into fatty acids, which go in storage as fat.
Studies regarding diets with unhealthy and healthy fats
Prospective study in the US
Here is a prospective study that followed 120,877 U.S. women and men over a longer time. Every 4 years there was weight gain of 1.69 lbs. for potato chips, 1.28 lbs. for potatoes, 1.00 lb. for sugar-sweetened beverages, 0.95 lb. for unprocessed red meats and 0.93 lb for processed meats. On the other hand from vegetables there was a weight loss of −0.22 lb., for whole grains −0.37 lb., for fruits −0.49 lb., for nuts −0.57 lb. and for yogurt −0.82 lb. The researchers checked cheese out and found it mostly neutral in terms of weight gain, while butter did cause weight gain.
Lancet study from Spain
In a study from Spain that was published in the Lancet in June 2016. The researchers followed 7447 asymptomatic men (aged 55–80 years) and women (aged 60–80 years) for about 5 years. They all had type 2 diabetes and three or more cardiovascular risk factors. They were randomly assigned to three Mediterranean diet types: a Mediterranean diet with olive oil, a Mediterranean diet with nuts and a control group on a low fat Mediterranean diet.
Weight loss when on Mediterranean diet
The interesting finding after 5 years was that there was weight loss around the waist in both the patients on the Mediterranean diet with nuts and with olive oil. Their weight loss was 0.95 lbs. for the olive oil group and 2.82 oz. in the Mediterranean diet group with nuts. The Mediterranean diet group with olive oil had lost 0.22 inches in the waistline, the other group on nuts lost 0.38 inches. These are hardly impressive losses! The researchers concluded that fat restriction is not necessary on the Mediterranean diet, as there was no weight gain with unrestricted healthy fats after 5 years.
Summary from a cardiologist
Dr. Dariush Mozaffarian, a cardiologist and epidemiologist of the Tufts Friedman School of Nutrition Science & Policy wrote an editorial regarding this Spanish study: "A handful of nuts may be 160 calories, which is more calories than a can of Coke, but that doesn't mean the can of Coke is a better choice". He added: "Salt, sugar, starch, processed food and trans fats should be off the menu, not fat. Healthy foods are healthy foods, and bad foods are bad. It doesn't matter, if the food is low fat or high fat. This is a separate issue."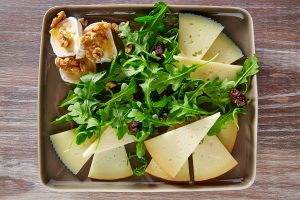 Mediterranean With Healthy Fat
Conclusion
When wanting to lose weight, the key is to pay attention to your carb intake. Make sure it consists of unrefined carbs. You will do this if you eat vegetables and fruit. Cut out sugar and starchy foods as much as you can. Have lean, clean meats, but avoid red meat except perhaps for every two weeks some grass fed beef. Eat fish (important for its content of omega-3 fatty acids), also enjoy yogurt, nuts, olive oil and avocados. It is an extra benefit if you add regular exercise to this as well. You will notice that you gradually shed the unnecessary pounds. This is not a program for just a month or two. To stay well, make it a new lifestyle!