A Dutch Study has shown previously that coffee consumption was reducing the risk for developing diabetes. Now Dr. Salazar-Martinez and co-workers have confirmed this in a study involving even larger numbers of both men and women. This was published in the Annals of Internal Medicine and the research team is from the Harvard School of Public Health, Channing Laboratory, Harvard Medical School, and the Brigham and Women's Hospital, Boston, Massachusetts. A total of 41,000 men and 84,000 women from the Nurses' Health Study and the Health Professionals' Followup Study were followed between 12 and 18 years. 1,333 men and 4,085 women developed diabetes during the time of observation. All of the data was analyzed carefully by controlling for other factors such as obesity, smoking, high blood pressure etc. to be certain that the only difference in the observed groups was the amount of coffee consumed.
According to the authors the gender differences are probably unimportant and may have to do with the different sample sizes. However, as the graph shows clearly, with the consumption of around 4-5 cups of coffee per day there is a significant 30 % drop in risk to develop diabetes.
The Dutch Study showed a 50% drop in risk with 7 cups or more per day and the study here suggests a similar drop with 6 cups or more.
Dr. Frank Hu, associate professor of nutrition and epidemiology at Harvard School of Public Health, who co-authored this study stated that physicians should still recommend to patients first to exercise and to loose weight to control diabetes. It would be premature to recommend heavy coffee consumption to patients for diabetes control.
Diabetes risk decreases with coffee consumption
(%
reduction)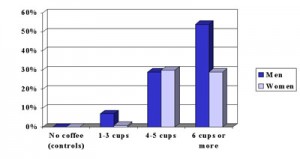 This beneficial effect was also observed to a lesser extent with decaffeinated coffee, but not with tea. According to Dr. Hu caffeine, chlorogenic acid and magnesium likely play a role in the protective effect with regard to diabetes prevention. Further studies will be done to see whether diabetes patients who drink coffee have a better outcome when they develop a heart attack.
Reference: Ann Intern Med – 6-JAN-2004; 140(1): 1-8
Last edited December 8, 2012