Makeover TV shows are very common, but it is usually women who are featured in them.
The fact that males are not talking as much about makeovers, Botox, Restylane and face lifts does not mean that cosmetic surgery is a topic only reserved for women. In 2004 1.2 million procedures were performed on men according to statistics from the American Society of Plastic Surgeons. The number of surgical procedures rose by 16% from 2000, and in 2004 there was also a 43% increase in minimally invasive treatments for men.
The reasons for this shift of attention may have several reasons. Men feel that there is more pressure on them to look vibrant, youthful and energetic. There is a lot more exposure of plastic surgery in the news media. Information about cosmetic surgery is also disseminated on the Internet.
An executive who has experience and skills and looks tired and old may be at a disadvantage on the career ladder, observes Dr. Lorne Tarshis, a Toronto plastic surgeon. If drooping eyelids convey the look of defeat and tiredness, it is not likely a reflection of how the patient really feels. As a result, men in this category will often opt for a blepharoplasty. Women are more willing to talk about plastic surgery to their doctor. Men are more reluctant than women to go to the doctor's office and ask about procedures. They are more likely to get their information on the net and walk into the office of the plastic surgeon with their minds made up. Dr. Arie Benchetrit, a plastic surgeon from Pointe Claire, Quebec finds that men are more pragmatic, whereas women are more open to discuss options. Men are looking for "natural" results, meaning in this case, that they want to look great but they don't want people to know why they look great. As a result they prefer less dramatic procedures. It does not mean that men are less nervous or anxious about their appearance than women, but mostly they won't talk about it, because admitting vulnerability in a competitive context goes against male culture.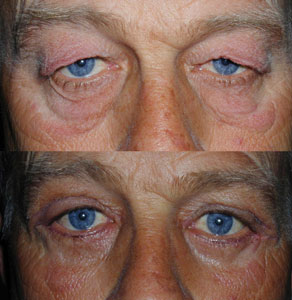 Before (above) and after (below) blepharoplastyDr. A. Carruthers from Vancouver reports that some patients with facial wasting as a result of HIV benefit from cosmetic fillers like restylane and silicone oil. Some of them were well enough to work. Their condition was stable, they felt fine, but they were sent home and told to go on disability because they looked too sick to be seen in the workplace. "Getting their faces back" had an immense emotional impact on those patients, who no longer felt stigmatized. Dr. Carruthers reported that in the past cosmetic surgery was looked at with skepticism. When Sigmund Freud heard that someone wanted to undergo a cosmetic procedure, he responded by prescribing psychoanalysis. But times have changed. Cosmetic procedures are more about well being, and the word "vain" is a four-letter word.
More on cosmetic surgery: http://nethealthbook.com/dermatology-skin-disease/cosmetic-surgery/
Reference: The Medical Post, December 20, 2005, page 31
Last edited October 30, 2014