This article is about the fact that you can fight back against arthritis. It is important to realize that osteoarthritis affects about 4 to 5% of the population with women outnumbering men by 2 to 1. Notably, the age of onset typically is less than 50 years, but becomes more evident and more disabling beyond the age of 50. About 40 to 60% of osteoarthritis is genetically linked as twin studies in women have shown (Ref.1). Synonyms for osteoarthritis are degenerative joint disease, osteoarthrosis and arthrosis. Till recently arthritis was accepted as something that was inevitable: people were getting old, getting stiff and sore, and had to "take it easy" as a result when they got older. In general, things are not as uncomplicated, as arthritis affects about 53 million Americans, and it has become the leading cause of disability in the US.
First thing to remember is that rheumatoid arthritis is an autoimmune disease. It is not a disease of "old age" but can affect people of every age group. The body reacts to components in joint tissue, and this immune reaction to collagen will produce inflammation, pain and ultimately disability.
Another key point, so far osteoarthritis was believed to be the result of wear and tear affecting the aging population, but more recently it has been discovered that osteoarthritis is also accompanied by the similar inflammatory immune factors that are involved in rheumatoid arthritis.
Cytokines from the immune system attack joints
In particular, when the body attacks collagen, which is needed to keep the joints moving smoothly, microscopic particles of it wander into the blood stream. There they are perceived as foreign molecules, and the immune system produces inflammatory substances (cytokines). These are sending out an army of "killer T-cells" to combat the collagen, which is perceived as a foreign matter. They are bombarding the exposed cartilage with toxic substances. Certainly, this means a chaotic combination of oxidative stress and more inflammation. Over time the cartilage that was meant to protect the joint in its function to move freely is eroded and destroyed.
Pain in the joints
For the person suffering from this disordered reaction, it means that the joint is not only creaking but causing pain, which is made even worse by weight bearing (walking, standing). Indeed, any person suffering from osteoarthritis will complain that he or she feels stiff and sore especially after a period of inactivity.
Certainly, commercials for anti-inflammatory medication are plentiful, and many sufferers resort to the pain relief that is promised. The warnings are mentioned right after the commercial or on the medication package, if the patient reads the fine print. Most anti-inflammatory medications are causing irritation of the stomach, and the kidneys get damaged (nephropathy)with prolonged use from these pills despite the promises in commercials of a happy, active and pain free life.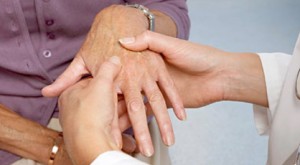 Causes of arthritis
There are many varied causes that can all contribute to developing arthritis. By all means, it is important to take a critical look at lifestyle choices. For instance, excessive body weight puts an additional burden on the joints in the body. Indeed, increased body fat is not just sitting at the abdomen as an inert potbelly. To emphasize, abdominal fat is a highly active metabolic organ that releases inflammatory substances into the blood stream, which distributes them throughout the body. It is known to damage blood vessels.
Inflammation and smoking lead to arthritis
To clarify, inflammation will damage the joints as well. The statistics show that 33.8 % of obese women have arthritis. The percentage for obese men shows that 25.2 % suffer from arthritis. Another key point is that smoking leads to circulatory problems and lack of oxygenation in the body's tissues. It is a mistake to believe that damage is done only to the lungs or the heart. The joints will be affected as well.
Mechanical stress causing arthritis
Mechanical stress with inadequate self-repair is one cause; misalignment of bones such as knock-knee (genu valgum) and bowleggedness (genu varum) will lead to premature osteoarthritis of the knees as can loss of muscle strength. Exercise without injury does not contribute the risk for developing osteoarthritis; it is actually part of the rehabilitation plan.
According to Ref. 2 there are other causative factors, such as increased age, female sex, race (black women have a twofold increase of arthritis over Caucasian women), estrogen deficiency, nutritional factors, genetics, metabolic and endocrine disorders, joint trauma, joint deformity, occupational factors and sports participation (accumulation of mini injuries).
One of the newer findings is that osteoarthritis is actually an inflammatory condition where numerous destructive processes occur within the affected joints leading to a breakdown of cartilage and supportive synovial fluid factors (proteoglycans). These findings lead to the possibility of new therapeutic approaches discussed below.
Diagnosis of osteoarthritis
According to Ref. 1 there are no blood tests and analysis of synovial fluid is non-diagnostic. Diagnosis of osteoarthritis is made by history, X-rays of the affected joints and clinical findings. There are joint tenderness and swelling of the affected joints. Heberden's nodes (swelling of the distal interphalangeal joints or DIP joints) and Bouchard's nodes (swelling of the proximal interphalangeal joints or PIP joints) are present. There can be a decreased range of motion and a grating sound of two ends of bones rubbing together (called "crepitus").  X-rays show typical osteoarthritis details with a narrowing of the joint space of the affected joint, subchondral sclerosis (increased bone formation around the joint) and new bone formation at the joint margins, called "osteophytes").
Integrative therapy of arthritis
Ref. 2 points out that integrative treatment of arthritis is aimed at reducing joint pain, increasing joint function and reducing further joint deterioration. Some measures are symptomatic only, others are disease modifying.
Nutrition
Dietary habits can promote good health or have disastrous consequences. The news has been out for some time that the typical North American diet with a high load of omega-6 fatty acids will stoke the fires of inflammation in the body and lead to arthritis, heart disease and cancer. Soybean oil, cottonseed oil and safflower oil contain the cheaper omega-6 oils that are widely used in food processing and bakery products. Refined carbohydrates contribute to unhealthy spikes in blood sugar levels and wreak havoc in their own way paving the downward slope to insulin resistance, metabolic derailment, and diabetes. Take a hard look at your shopping wagon. Stay away from processed foods, shop the periphery of the supermarket, and choose organic meats, vegetables and fruit. Use heart healthy fat in the form of virgin olive oil. A
Mediterranean diet particularly useful
Mediterranean type diet will be a good choice. Just bear in mind, that a heap of pasta like Fettuccine Alfredo does not constitute what a healthy Mediterranean diet is all about. An anti-inflammatory diet such as a Mediterranean diet also includes deep-water fish as a source of omega-3 fatty acids or molecularly distilled omega-3 capsules (you need 7 to 8 high potency, molecularly distilled fish oil, 1000mg per capsule) every day.
This approach has shown beneficial effects in beginning stages of osteoarthritis.
It is important to cut out sugar and starchy foods to reduce insulin resistance, which would otherwise maintain the inflammatory chronic condition causing arthritis and cardiovascular disease. Physicians could show that cutting out wheat and wheat products is beneficial in reducing inflammation. Such an anti-arthritis diet prevents heart attacks and strokes at the same time.
Weight loss
Ref. 2 points out that one study showed that weight reduction of only 10% had a 28% improvement in joint function. Weight reduction in combination with an exercise program makes the improvements even more striking.
Exercise
Exercise consists of aerobic training, resistance training and muscle strengthening. When researchers observed patients with osteoarthritis throughout controlled exercise programs, flexibility and range of motion of the affected joints were improving. They found that a minimum of three days per week of exercise was necessary to show joint range of motion improvements. However, the best results were there when patients exercised most of the days. Joints become less swollen, show improved circulation and less pain. Researchers determined that prior to an exercise program those with increased cardiovascular risk should first undergo an exercise stress test. This measured their cardiovascular reserve and established that it was safe to start a program.
Treat inflamed joint first, then exercise
Physicians found that an acutely inflamed or swollen joint required treatment first before the start of an exercise program. Lack of exercise will promote more disability. While a person with arthritis may be unable to run a brisk race due to joint discomfort, he or she will find water exercises and swimming much more manageable. Group programs for people with arthritis are available and you may enjoy the supportive company.
Heat and cold therapy
Ref. 2 points out that three weekly 30 minute sessions of microwave diathermy for 4 weeks showed a significant reduction of joint swelling in knee osteoarthritis with improved joint function and reduced pain. On the other hand cold packs for aching muscles after strenuous exercises can decrease muscle spasm and increase the pain threshold. Range of motion increased with cold application and there was a reduction of joint swelling. Patients who have cold sensitivity (such as Raynaud disease) need to refrain from the latter treatment modality.
Acupuncture and electro acupuncture
Researchers found these treatments useful as an adjunct to anti-inflammatory medication with NSAIDS (non steroidal anti-inflammatory drugs). The advantage was that they could reduce the dosage of NSAIDS, which eliminated the potential serious side effects of gastric bleeds and kidney damage. Note that people with pacemakers or CNS stimulators cannot use electro acupuncture.
Intraarticular steroid injections
When osteoarthritis or rheumatoid arthritis affects only a few joints, a physician can inject a corticosteroid into the joint. However, there are limitations, as the physician can inject each joint not more than 3 to 4 times. Otherwise there can be damage to the joint cartilage, which would make the arthritis worse. However, I have seen surprisingly good results for a long period of time, which allowed the patients to exercise and stabilize the joints that way.
Complementary treatments
A number of supplements and herbs are effective in reducing inflammation. Omega-3 fatty acids are the precursors for anti-inflammatory prostaglandins in the body, which helps both patients with osteoarthritis and rheumatoid arthritis. As I indicated earlier, only higher doses of omega-3 fatty acids cause this effect. Also, for safety reasons only use molecularly distilled omega-3 fatty acid supplements. These avoid toxicity from mercury and PBC's. Yes, they are more expensive.
Curcumin
Health care workers in India and Asia used curcumin, the active ingredient of the spice turmeric, for its anti-inflammatory and antioxidant properties for centuries. It helps not only arthritis, but also against the illnesses in association with it, such as obesity, diabetes, heart disease and autoimmune conditions. Ref. 2 points out that curcumin neutralizes inflammatory agents circulating in the blood of patients with arthritis.
Standardized ginger extract
Research showed that standardized ginger extract reduced pain significantly in patients with knee osteoarthritis.
Other common supplements for building up cartilage in the joint are glucosamine sulfate and chondroitin, both available at the health food store. They stimulate glycosaminoglycan formation, which in turn builds up hyaline cartilage, the enamel-like coating of the bone within the joint.
An oral desensitization to treat arthritis
Researchers asked themselves whether itv is possible to enhance joint health of patients in other ways? New answers have emerged. In the past, people who were suffering with colds or flus were consuming a steaming bowl of chicken soup. Colds and flus also cause an inflammatory reaction within the body.
A steaming bowl of chicken soup
While a lot of health professionals dismissed this home remedy as old-fashioned and useless, a team of scientist from the University of Nebraska decided to research the matter a bit closer. They discovered that it was not the vegetables, but a component in the chicken broth that showed anti-inflammatory activity. The chicken derived type II collagen functions to regulate the immune system, so it stops attacking proteins normally found in healthy joint cartilage. Results of a pilot study have shown remarkable results. A dose of 40 mg per day of un-denatured type II collagen (UC-II) showed a significant reduction in pain and swelling from arthritis. It also yielded good results in terms of relief from joint pain and stiffness due to exercise.
Un-denatured type II collagen (UC-II)
Animal studies on dogs and horses demonstrated that both animal groups that frequently suffer from arthritis got significant relief. Human clinical trials with UC-II showed similar effectiveness.
Researchers treated a group of patients with knee osteoarthritis with the supplement for 90 days. 33% experienced a reduction in their osteoarthritis. There was a reduction of knee pain by 40%. Those patients who received the standard treatment without any supplement had 15.4% less pain. There was an improvement of joint function by 20% in the group on the supplement. There was only 6% of improvement in the patient group receiving standard care.
Healthy patients showing more knee mobility on UC-II
Researchers also assessed healthy patients who did not suffer from arthritis, but received the supplement to evaluate how they would fare with exercise-induced knee pain. They treated them with a daily dose of 40 mg of UC-II. After day 90 and 120 the treatment group group with the supplement could exercise for significantly longer periods before experiencing joint pain. They also recovered faster after joint pain. The placebo group who swallowed "fake pills" did not show these changes. When researchers examined knee joint flexibility, the supplement group had significant increases in their knee mobility, but no such luck for the placebo group!
UC-II desensitizes the immune system
Numerous toxicological essays have evaluated the supplement. There is no oral toxicity. Researchers did not detect any mutations in bacterial genomes. This is a standard screen to ensure that a substance is non-carcinogenic.
The oral administration of the UC-II supplement works through desensitization of the immune system. It reverses T-cell attacks on exposed cartilage. If our joints are healthy and intact, we normally do not react to our own cartilage. But the protective barrier between blood and cartilage diminishes as we age. Early treatment with UC-II may help induce immune tolerance even in healthy individuals and protect them from reactions of the immune system to their own cartilage.
Conclusion
The supplementation with UC-II offers a different approach to modify joint inflammation of arthritis. Standard treatment at this point consists mainly of symptomatic treatment. Side effects to the drugs can be serious, if they are in use on a long-term basis. Few are tolerable to modify the course of the disease.
The UC-II supplement addresses the root of the disease (autoimmune disease). The patient experiences relief of symptoms within a few weeks of starting it. A person with arthritis can fight back  with lifestyle changes and the UC-II supplement.
More information on osteoarthritis: https://nethealthbook.com/osteoarthritis/
References
1. "Osteoarthritis. Basic information". Ferri: Ferri's Clinical Advisor 2014, 1st ed., © 2013 Mosby
2.  Rakel: Integrative Medicine, 3rd ed., 2012 Saunders
Incoming search terms: