Patients who are born with an inborn enzyme defect that leads to iron overload (hemochromatosis) and others with secondary hemochromatosis due to sickle cell anemia will benefit from new research by Dr. Gavin Oudit, Dr. Peter Backx, Dr. Peter Liu and others. The researchers at the University of Toronto and Toronto General Hospital have published their findings in the Sept. 15 issue of Nature Medicine.
In animal experiments they found that the same calcium channels that transport calcium to vital organs are also the channels through which poisonous levels of iron are introduced with iron overload disease. In both animal experiments and in the clinical situation, human iron overload affects mainly the pancreas, the heart muscle and the pituitary gland. The authors of this study found that in hemochromatosis patients the calcium channel blockers, such as amlodipine (Norvasc), verapamil or diltiazem will stop the accumulation of toxic levels of iron in these organs.
Dr. Peter Backx, professor of physiology and medicine at U of T in the Heart & Stroke/Richard Lewar Centre of Excellence and senior author of the paper, explained that more detailed research determined that the L-type calcium channels that play a role in the normal calcium transport across the cell membrane are the same channels that allow the iron molecules into the heart muscle cells and into the cells of the other organs that get damaged with hemochromatosis. By using calcium channel blockers, heart drugs that are already on the market, it is possible to prevent accumulation of iron to the point of toxic levels. Up to now the only approach to therapy was to remove excessive iron from the body by expensive iron chelation medication that had to be given intravenously.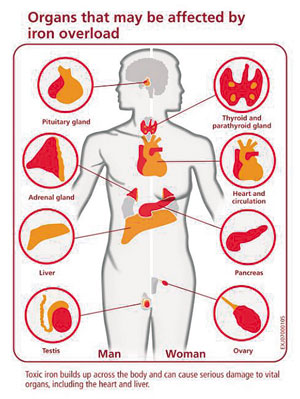 Further clinical trials on a larger patient population are necessary to determine who will benefit most from this approach of treating iron overload conditions with calcium channel blockers and what dosage to take. Dr. Peter Liu is another senior author regarding this study and is a cardiologist at the Toronto General Hospital and director of the Heart & Stroke/Richard Lewar Centre of Excellence and professor of medicine and physiology at U of T. He stated that this alternative therapy for heart failure from iron overload cardiomyopathy will likely open the doors for those patients worldwide who could not afford to have expensive chelation done, which is presently the only treatment method to remove the excessive iron. People of North American, European, Mediterranean or Asian descent are more prone to genetic hemochromatosis, thalassemia and sickle cell anemia that can all lead to iron overload requiring this type of therapy.
Last edited December 9, 2012